Staying Proactive About Commercial Roofing Repair and Maintenance for Your Facility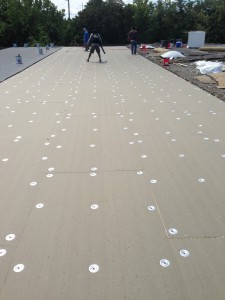 Commercial roofing maintenance may not be the first thing that comes to mind when you picture what it takes to manage a successful facility, but it's extremely important nevertheless. Without adequate care and timely maintenance, even the strongest roof will eventually develop problems. If those problems are allowed to further escalate, they could mean costly repairs. Taking a proactive approach to roof maintenance can help.
Taking Care of Your Roof
Eventually, every commercial roof will need to be replaced, but there's plenty you can do to ensure yours lasts as long as possible. If you aren't doing it already, get into the habit of clearing your gutters and drains a minimum of twice a year. Keep trees and nearby foliage trimmed so that it cannot damage or compromise the surface of your roof. You should get into the habit of personally expecting your roof for damage on a regular basis as well, especially if the weather's been particularly bad.
Inspections and Preventative Maintenance
Keeping an eye on the ongoing welfare of your roof is a good start, but you'll need to have professional commercial roofing maintenance regularly performed as well. An experienced roofing expert will be able to spot issues even you might miss. He'll also have the tools and know-how to fully test your roof for early moisture leakage, sun damage, and more. Make arrangements with a professional of your choice to have inspections, minor repairs, and preventative maintenance performed twice a year, once in the spring and again in the fall.
Keep Careful Records
Last but not least, you'll want to document everything both you and your commercial roofing maintenance company do to take care of your roof. Be sure to also record everything your roofing professional tells you about the roof, especially in regards to when it might next need to be replaced or repaired. This will let you plan ahead for any major expenses and protect the livelihood of your business into the future.